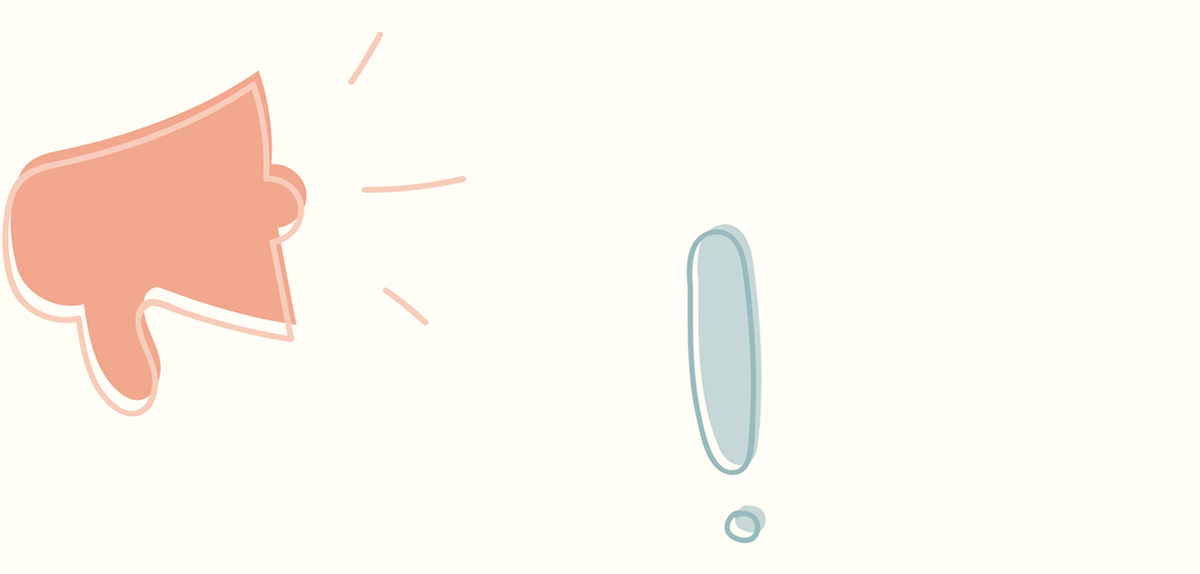 Problem
Product recalls, with-drawls and safety alerts are a daily occurence in the food industry. This has resulted in a demand for total transparency of food that people eat.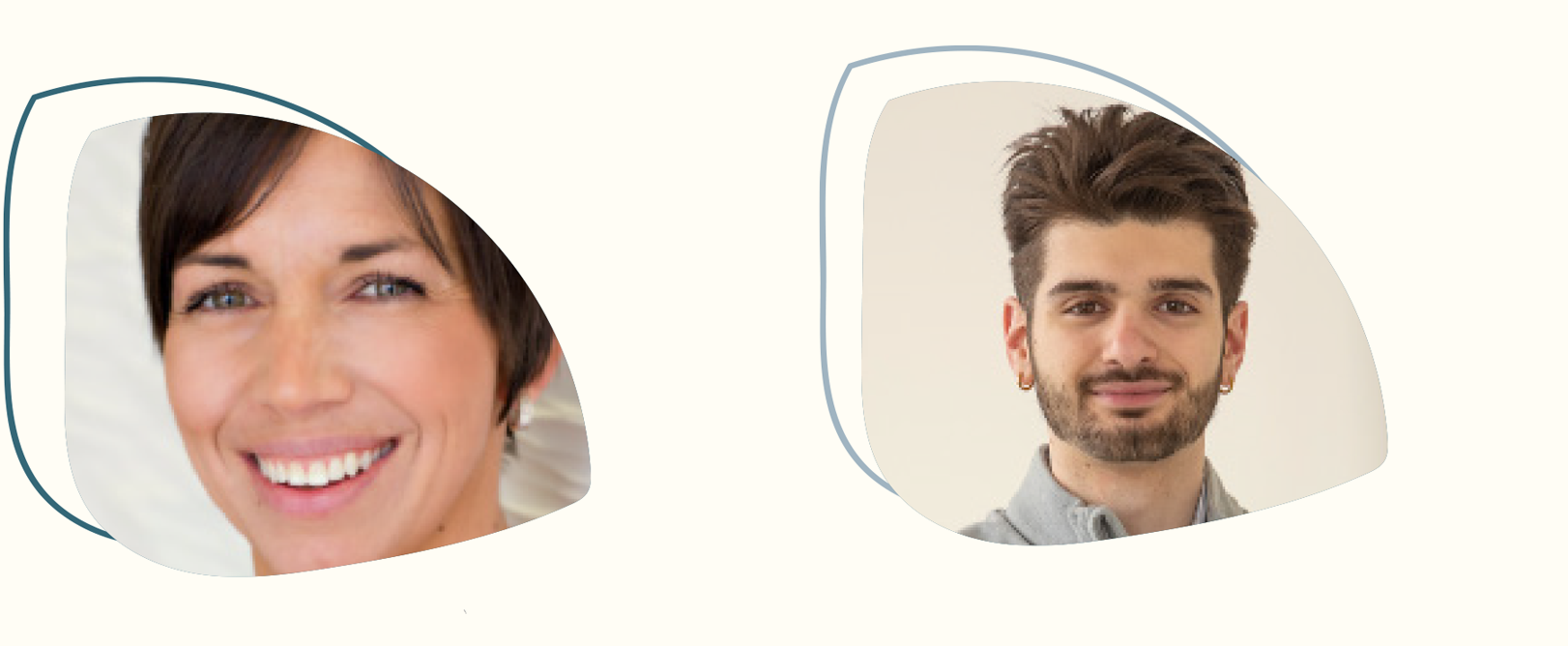 Users
Lisa

is a 31 year old fitness trainer who practices what she preaches, but has difficulty finding restaurants that support her lifestyle. In order for her to feel satisfied with where she's eating, she needs to know how food is prepared and exactly what goes into it.
Jake

is a 20 year old social sciences student who loves to eat out, however his main concern is the ethical side of food production. He wants to know not only how food is prepared, but also how employees are cared for and what they're getting paid.
Identity Process
We went through many rounds of sketching to find the right logo for the restaurant. Along the way, we realized that we needed to find a way to visualize the concept of transparency, as well as seafood within the identity.

Logo concept
A barreleye is a rare ocean fish that has a transparent head, which allows it to see above and all around it. The logo is an abstraction of the barreleye fish, and represents smaller things coming together to form a whole.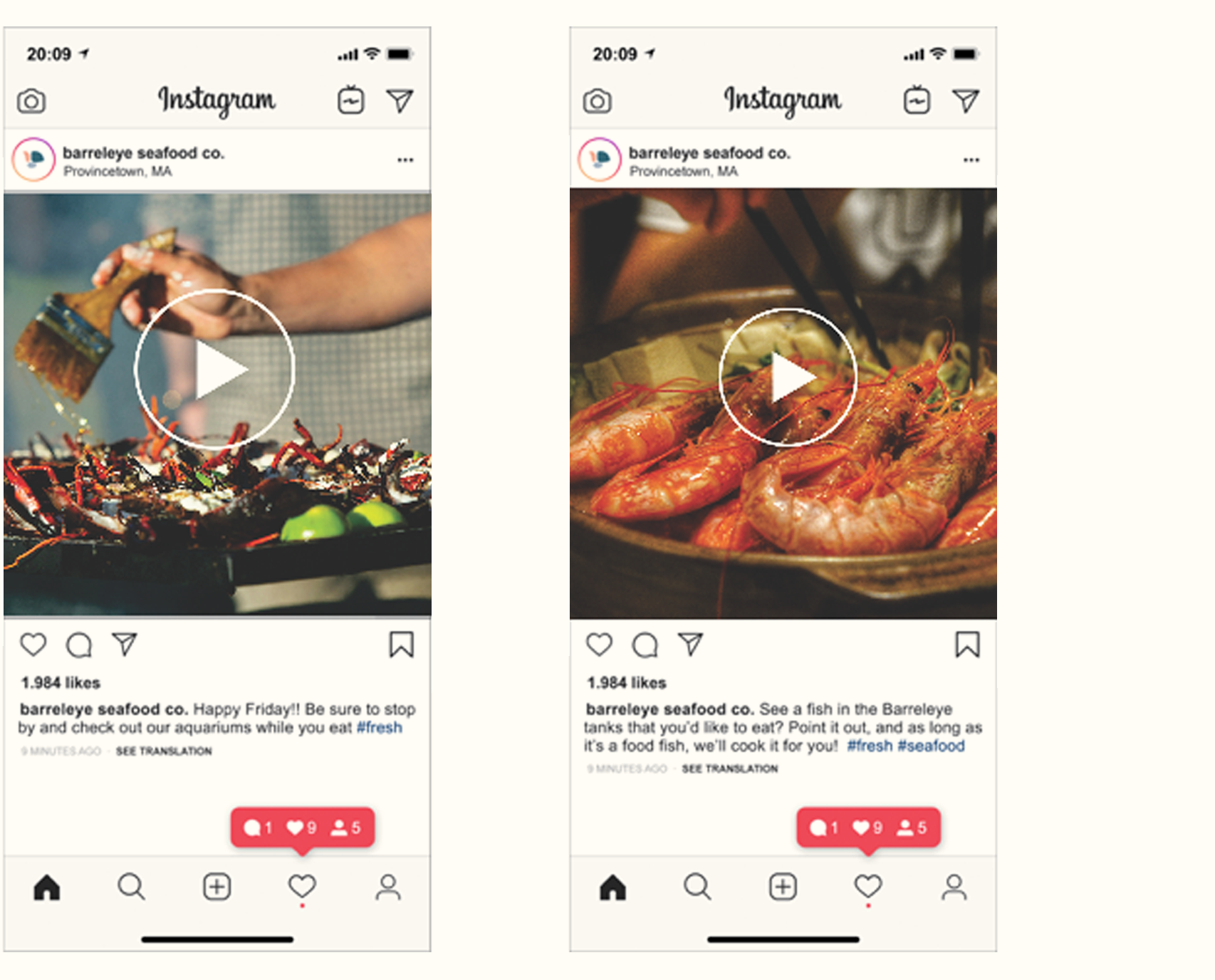 Entice
We created a series of videos that show how the food at Barreleye is prepared and sourced, which will be used on social media to show that we're dedicated to transparency.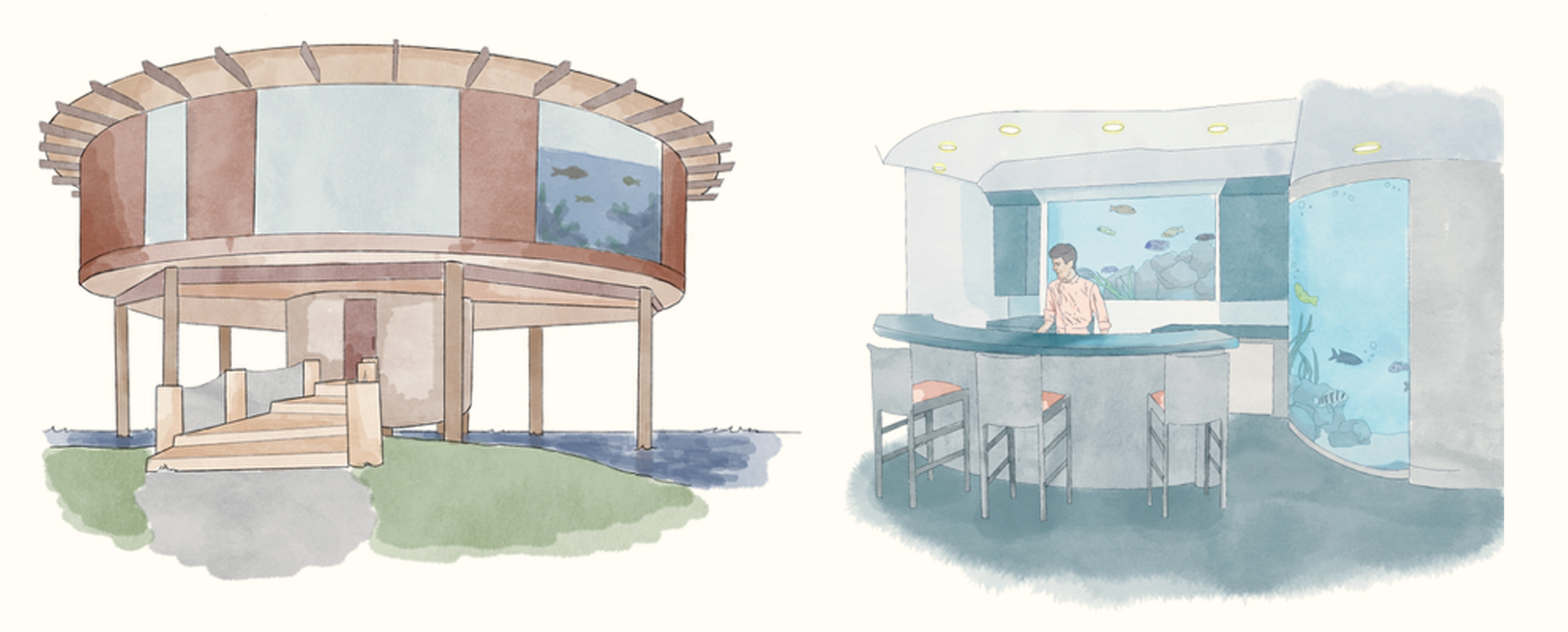 Enter
Barreleye is located in a round wooden building on tall stilts over the water. There are large windows, and the interior contains many aquariums built into the walls and has natural lighting from the large windows.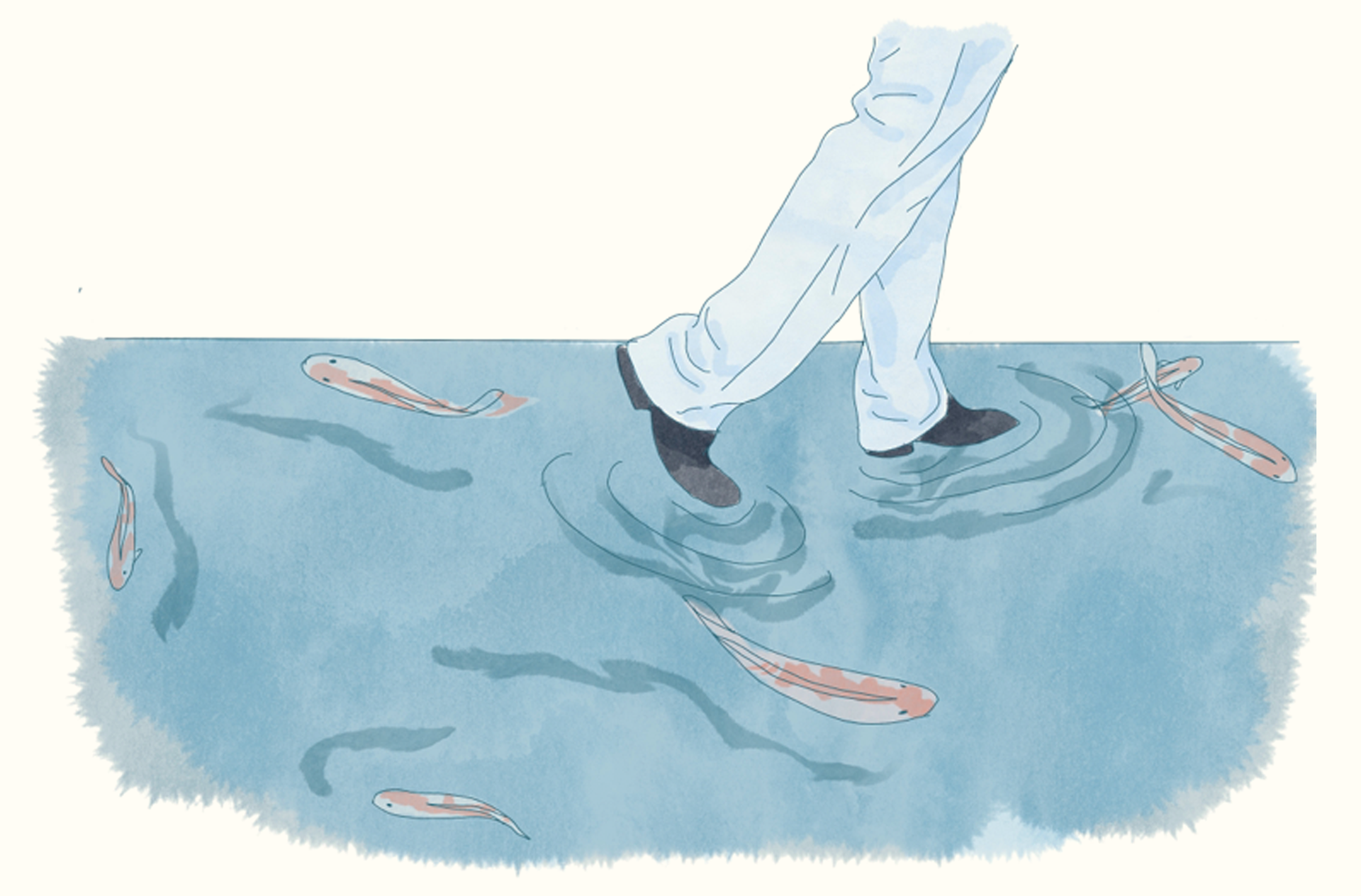 Interactive LED Floor
There are small sections of interactive LED flooring on each side of the restaurant. When a user steps on this flooring, a depiction of water will ripple where they stepped and fish will move around beneath them.
Employees
Barreleye is dedicated to being open not only about their food, but also their employees. Employee uniforms help to enforce the idea of transparency. Each uniform has a name tag that is screen printed onto the shirt. The name tag has the employee's name, how much they make, and their position at Barreleye.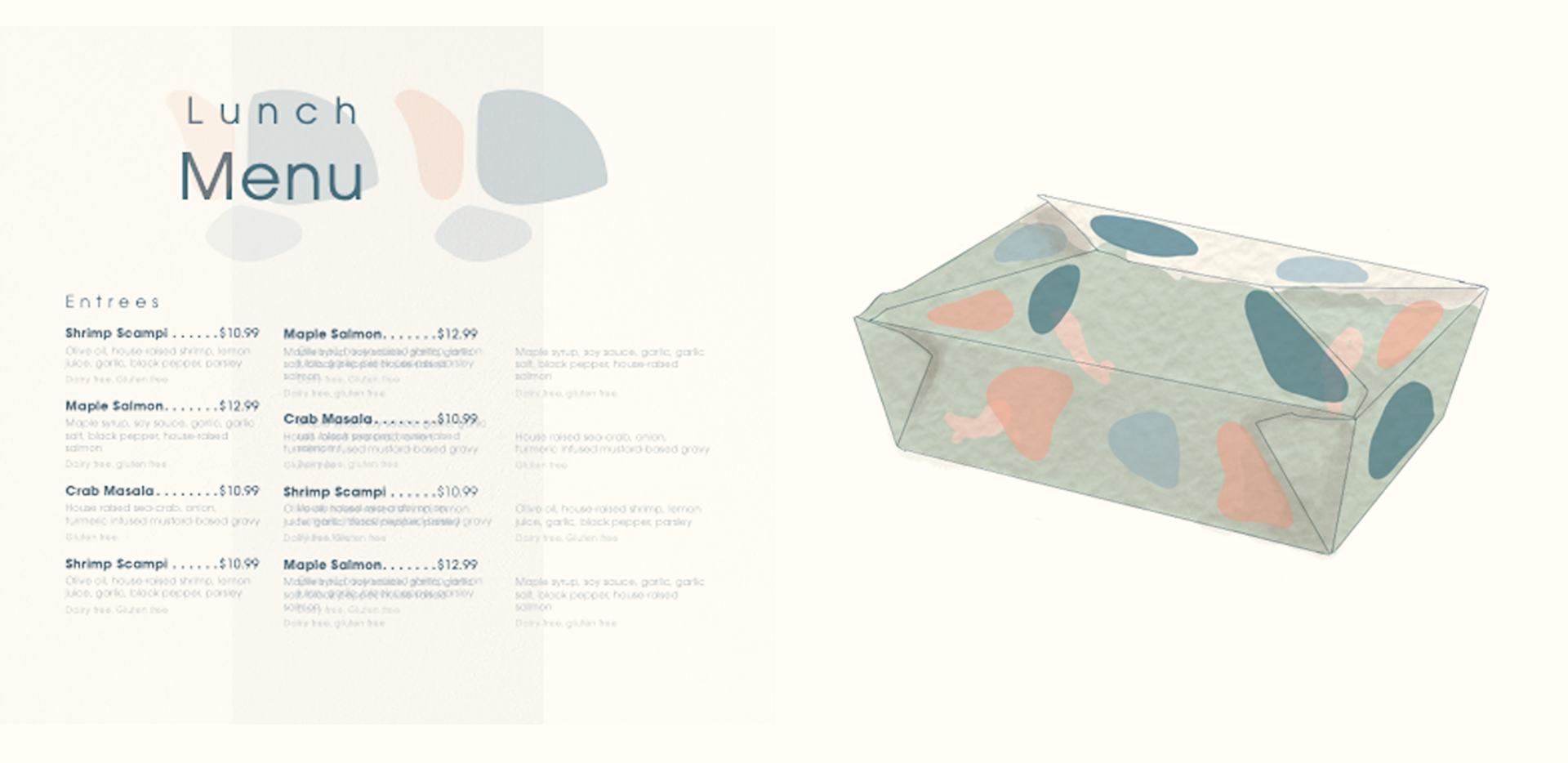 Ordering & Take-out
The menu includes not only dish descriptions, but also a list of ingredients and includes whether it is gluten or dairy free. It's printed on a thin, transparent paper that layers to create the meal descriptions. The take-out boxes are made out of a thick transparent paper that allows users to see their food that they are bringing home.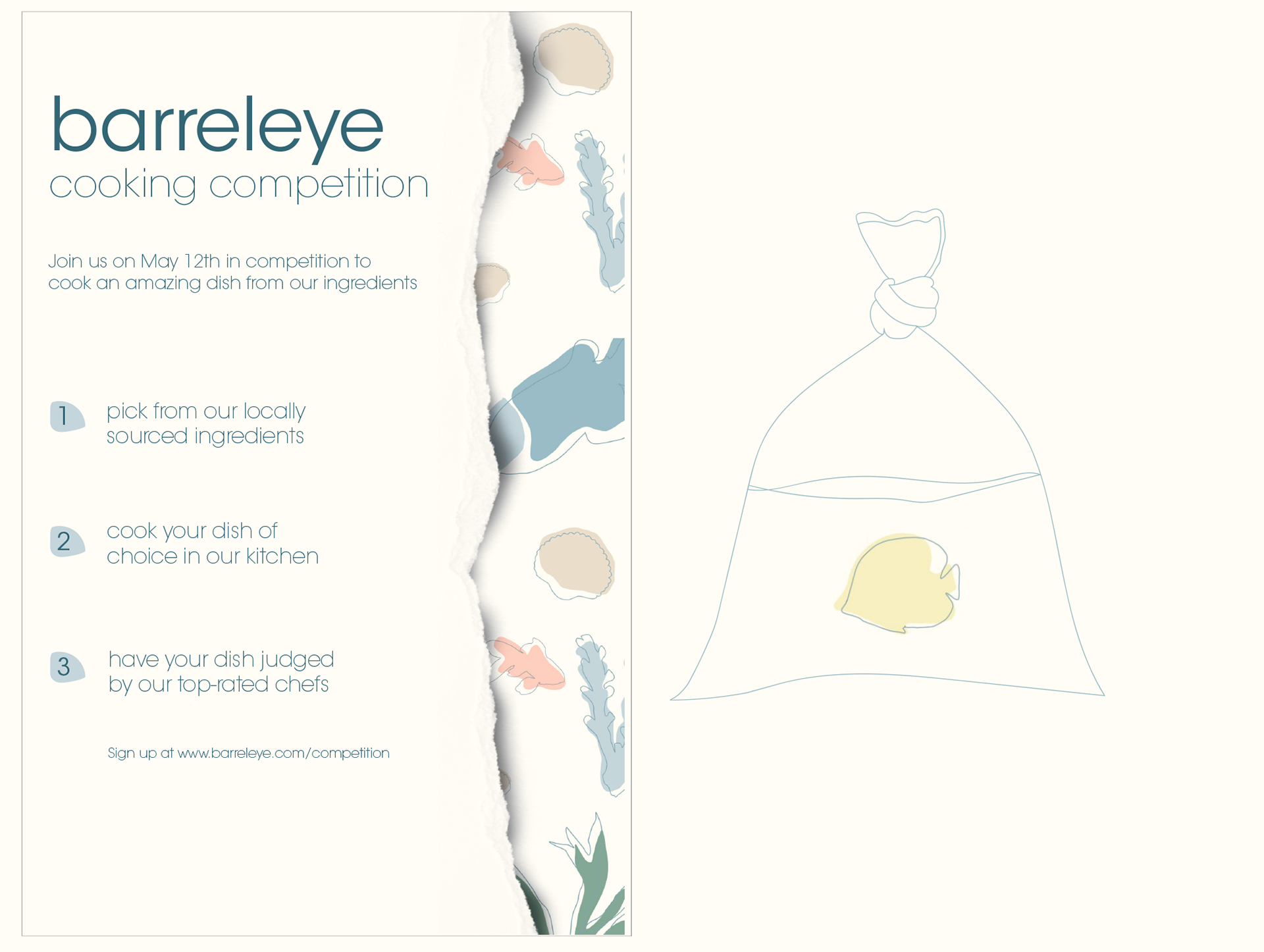 Cooking Competition
Barreleye puts on a cooking competition a few times a year. This serves as a fun means of Public Relations and also engages customers in a unique way.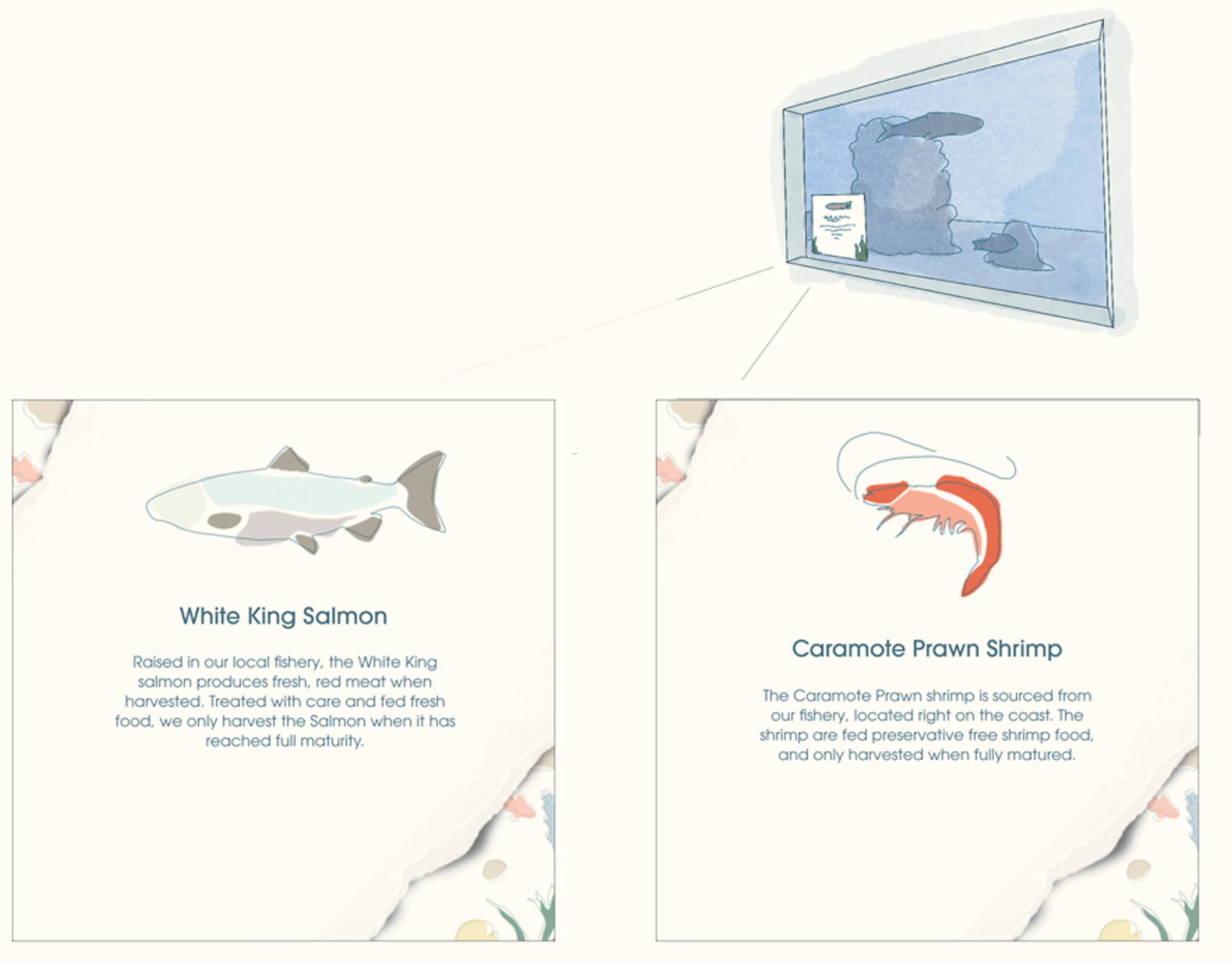 Signage
Barreleye has lots of types of fish in the aquariums. Some are just for show, but others are fish that users can eat. We call those the "food" fish. The aquarium for "food" fish is marked with signs that describe each individual type of fish, where they come from, and how they're raised.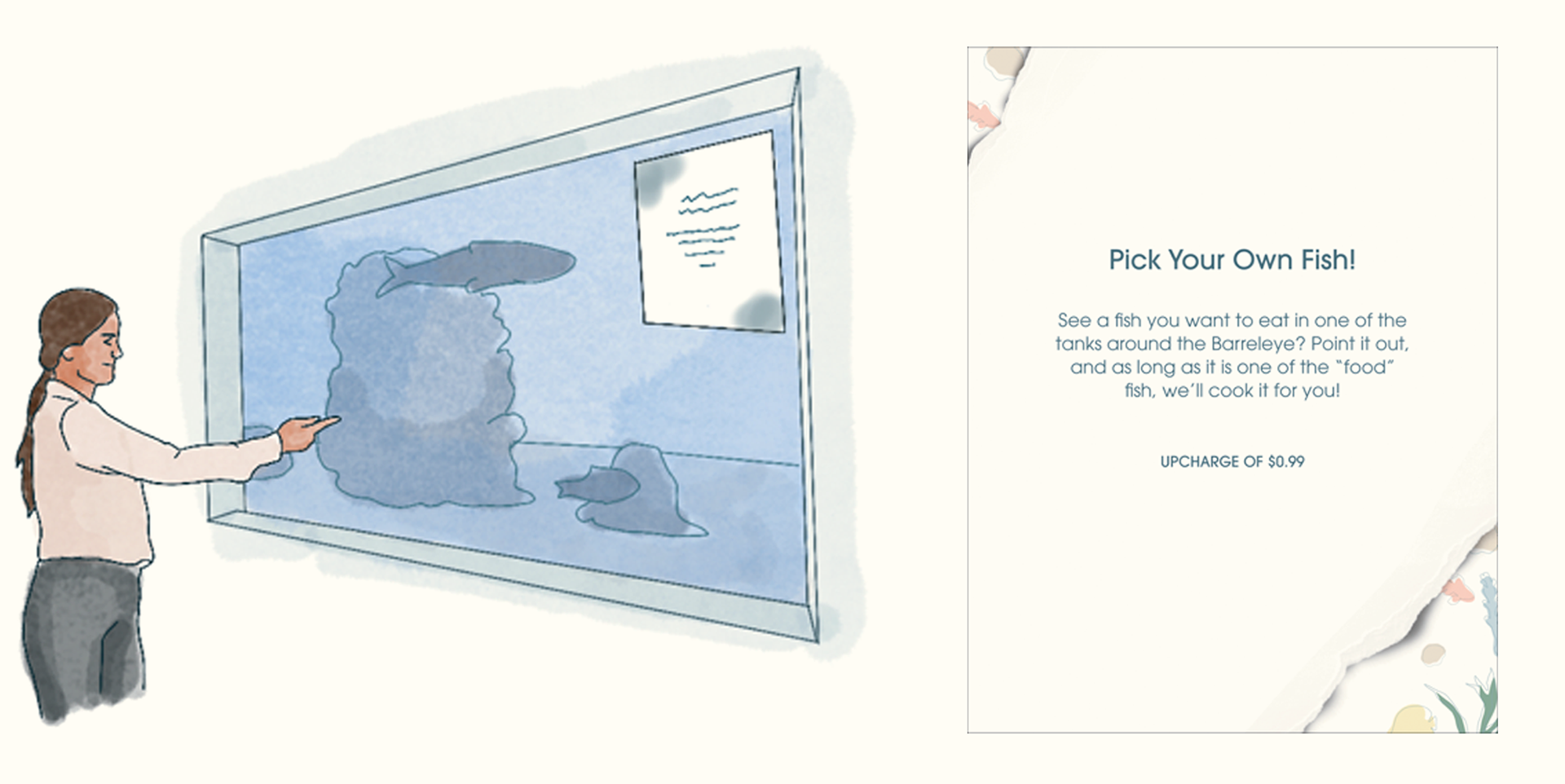 Pick Your Fish
Users can pick a fish to eat from the "food fish" tank! They simply point out the fish they want to eat, and the chefs will cook it for them, giving them total control of their meals.
Mobile App
We wanted to incorporate a digital aspect into the brand we created. After creating a sitemap and wireframes, we realized that the app didn't need to focus on things such as the employee policy or the food sourcing since the physical space exemplifies the brand values. As a response to the COVID-19 outbreak, we decided to focus our app on allowing users to order food for takeout or delivery.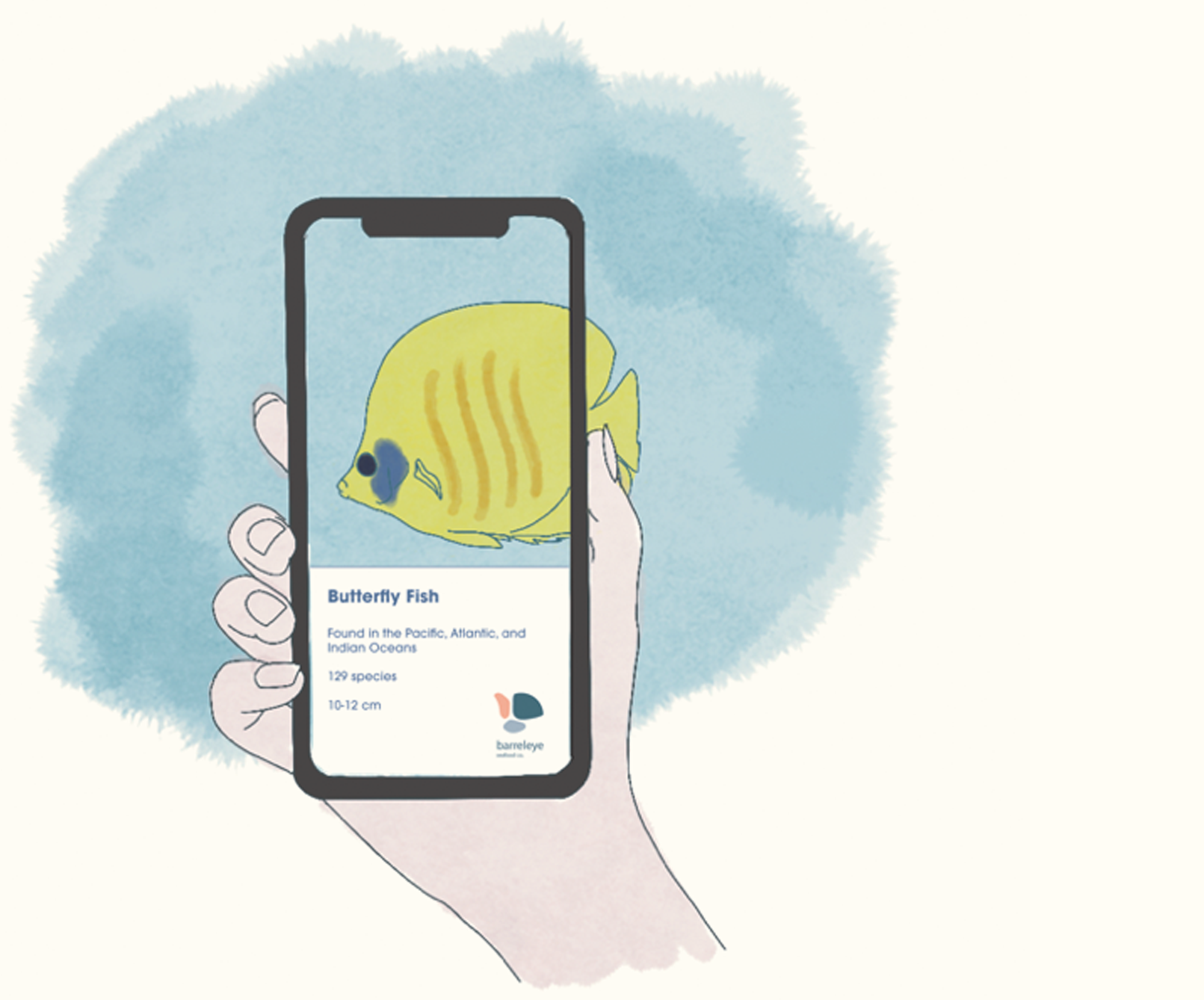 Fish Scanner
If there is a fish that a user sees and wants to learn about, they can open the app and scan the fish with the camera in the app. This will give them facts about the fish.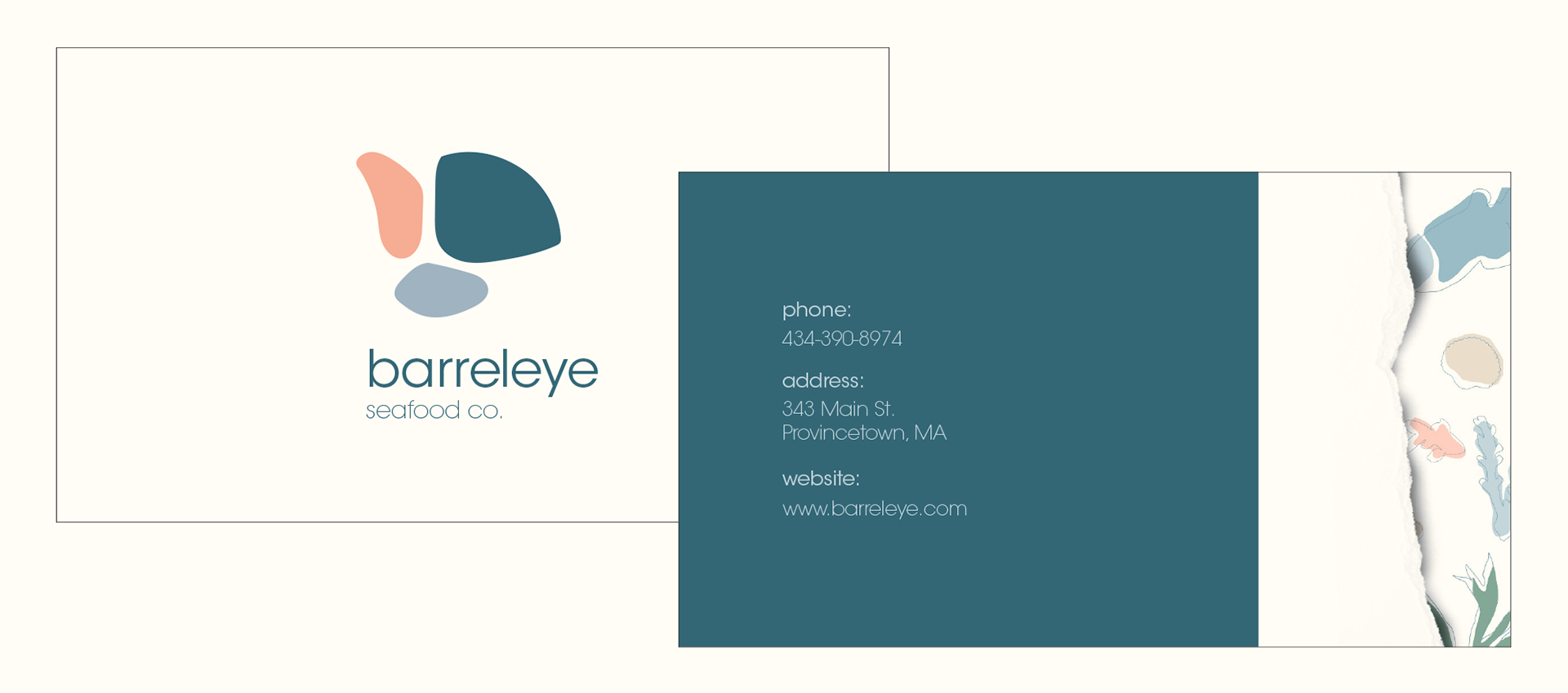 Extension
Customers can take business cards home to have, and are encouraged to share them with friends and family.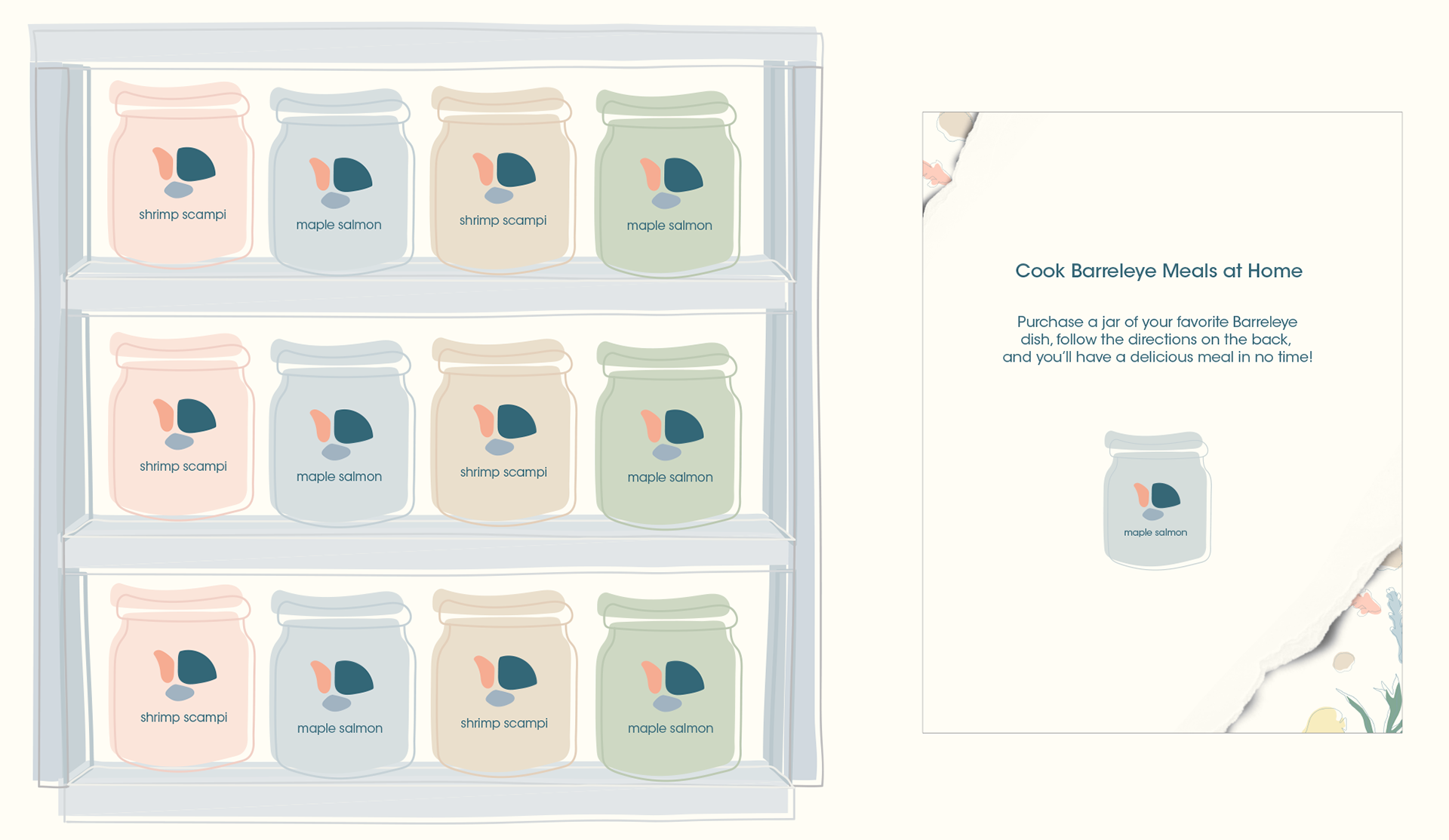 Buy Your Own Ingredients
Customers can purchase ingredients at Barreleye to make their favorite dishes at home.
Contributors: 
Lydia McCracken